Meet the Management Team
Ken Cretney, President & CEO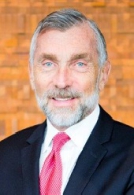 Ken's award-winning experience in the hospitality and tourism industry spans almost 40 years. He joined the Vancouver Convention Centre (VCC) as General Manager in 2008, before being named Chief Operating Officer of B.C. Pavilion Corporation (PavCo) in 2013. Ken was appointed President and CEO of PavCo in February 2014.
Prior to joining the VCC, Ken was General Manager of Vancouver's Marriott Pinnacle Hotel. Under his guidance, the hotel realized a significant improvement in market share and profitability, was voted one of the Best Companies to Work For in BC for three consecutive years, and garnered numerous sales, marketing and service excellence awards.
Before arriving in Vancouver, Ken managed the Rimrock Resort Hotel in Banff, Alberta for several years during which time the hotel became one of North America's top properties. He later joined the Delta Whistler Resort as General Manager, overseeing its conversion to the Hilton Whistler Resort & Spa.
Ken is an active member and past-Chair of the Vancouver Hotel General Managers, Association (now Hotel Association of Vancouver). He is currently Board Chair of the Vancouver Community College Foundation where he also sits on the Professional Advisor Committee for Hospitality. Recognized as an avid supporter of education in the hospitality industry, Ken has for over 20 years been an active member of the industry education advisory committee for Selkirk College.
Ken is the immediate past Chair of Tourism Vancouver and has sat on the Board for over 10 years. As well, Ken takes an active leadership role in PavCo's strategic partnership with Vancouver Sports Hosting, delivering high-profile, world-class international sporting events to British Columbians, including the Women's World Cup, World Rugby Sevens, and the 2019 World Junior Hockey Championship.
__________________________________________________________________________________________________________________________________
Rehana Din, Chief Operating Officer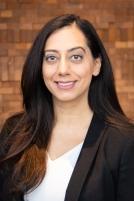 Rehana joined PavCo in 2013 as CFO and was promoted to Chief Operating Officer. She brings with her nearly 20 years of leadership and financial management experience, as well as a strong understanding of Finance, IT, Human Resources and Operations.
Prior to joining PavCo, Rehana spent several years at Gateway Casinos and Entertainment Limited as Chief Financial Officer. At Gateway, her accomplishments included several successful corporate restructuring transactions, and the acquisition and integration of additional operating entities. Prior to joining Gateway, Rehana was a Senior Manager with PricewaterhouseCoopers LLP (PWC), and for 10 years managed clients in the Forestry, Tech and Entertainment sectors.
A member of the Audit Committee at Canuck Place Children's Hospice, Rehana is a Chartered Accountant and holds a Bachelors of Business Administration from SFU.
__________________________________________________________________________________________________________________________________
Curt Walker, Chief Financial Officer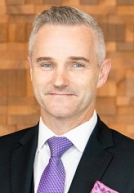 Curt Walker serves as Chief Financial Officer (CFO) at BC Pavilion Corporation (PavCo). As the CFO, Curt oversees the departments of Finance, Payroll, Legal and Records Management and IT & Enterprise Systems for the organization and each of its facilities. He first joined the organization in 2018 as Senior Director of Finance.
Prior to joining PavCo, Curt served as the Chief Administrative Officer (CAO) for Lil'wat First Nation and the First Nations Health Authority, overseeing finance, information management and technology, corporate services, capital construction, strategic planning, and business development. Curt brings an extensive background in tourism and hospitality and has also supported several regional not-for-profit community organizations including Whistler Sports Legacies, the Squamish Lil'wat Cultural Centre and St. Pius X Elementary School.
Curt is a Fellow of the Society of the Chartered Professional Accountants (FCPA, FCMA), holds an Executive MBA from Queen's University and Bachelor of Business Administration from Simon Fraser University.
__________________________________________________________________________________________________________________________________
Chris May, General Manager, BC Place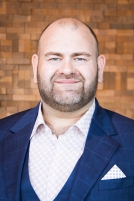 Joining BC Pavilion Corporation (PavCo) in 2022, Chris May serves as General Manager of BC Place Stadium bringing over 15 years of strategic leadership experience in executing diverse, large-scale events for international markets.
Chris has planned, managed and provided strategic direction for major live events in markets across the globe. From live concerts, musicals, TV telethons, and special events, to international touring logistics, he has ensured the successful execution of events selling in excess of 7 million tickets, and free public events attended by millions more. Career highlights include tours with the Dave Matthew Band, Jack Johnson, and Xavier Rudd.
Previously, Chris served as Vice President, Delivery and Production, and Executive Producer, at SDImktg where he led the development of long-term major event strategies for new and existing clients, as well as guided execution for the agency's portfolio for major events such as Rogers Hometown Hockey Tour. Before joining SDImktg, Chris acted as Senior Director of Touring Operations with Cirque Du Soleil, responsible for arena touring shows Saltimbanco, Alegria, and Varekai. He also managed the company's first tours to 23 new markets including Qatar, Turkey, Lebanon and Hungary.
Chris also works extensively with Embers, a Social Enterprise based in Vancouver's Downtown Eastside that provides employment opportunities to individuals with barriers to employment, serving as Secretary of the Board of Directors. Additionally, he is on the Board of Directors for Firehall Arts Centre where he provides governance and leadership for the venue, which hosts two hundred performances each year in the heart of the Downtown Eastside.
__________________________________________________________________________________________________________________________________
Craig Lehto, General Manager - Vancouver Convention Centre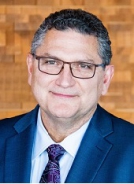 An internationally respected facility manager and major event organizer with over 25 years of experience, Craig Lehto joined the Vancouver Convention Centre as the Assistant General Manager in August 2011. As General Manager of the award-winning Vancouver Convention Centre, Craig is responsible for overall event operations and service management, supplier management as well as the re-establishing the Centre as the premier destination for meeting and events in North America.
Craig's wealth of experience includes the planning and execution of three of North America's largest Olympic Winter Games venues as well as post-Games high performance sport and revenue programs. From 2005 to 2010, he led a team of 1,200 as Director of Sliding Sports and Venue General Manager of the Whistler Sliding Centre, the official competition venue for luge, skeleton and bobsleigh at the 2010 Olympic Winter Games.
Under Craig's leadership, the Vancouver Convention Centre has secured and hosted some of the most globally renowned conventions, business meetings and other high profile events. These include TED Conferences 2014 to 2019; Women Deliver 2019; SIGGRAPH computer graphics conference 2011, 2014 and 2018; Professional Convention Management Association's 2016 Convening Leaders; FIFA Women's World Cup FOX Studio; and Grey Cup Festivals 2011 and 2014. He also led his team in accomplishing a significant sustainability achievement - the Vancouver Convention Centre becoming the first double LEED Platinum convention centre in the world.
Prior to coming to Vancouver, Craig served as Venue General Manager of the Utah Olympic Park during the Salt Lake City 2002 Olympic Winter Games. He has also consulted for various Games committees.
Craig is a two-time recipient of the Golden Olympic Rings from the President of the International Olympic Committee for outstanding contributions to the Olympic movement. He has also gained recognition from the Environmental and Public Health Alliance of Utah for extraordinary contributions to the planning and implementation of environmental and public health strategies for the 2002 Salt Lake Winter Olympic Games.
Currently, Craig serves as a Board of Director for Convention Centres of Canada. He was also a Board Member and the Senior Vice-President of Venue and Games Operations for the 2014 Special Olympics Canada Summer Games.
__________________________________________________________________________________________________________________________________
Claire Smith, CMP Vice-President, Sales and Marketing - Vancouver Convention Centre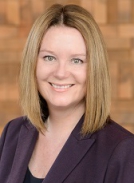 Bringing over 25 years of experience, Claire Smith, CMP, was appointed Vice-President, Sales and Marketing in June 2008. Claire is responsible for strategic business development, leading and directing the Vancouver Convention Centre sales department, as well as positioning the facility in the global marketplace.
As the Convention Centre's Director of Sales & Client Services from 1997 to 2005, Claire played an integral role, managing sales, marketing and event services. Claire also was the principal of her own consulting firm where she provided business development strategies for convention venues, bureaus, associations and event management companies. She has worked with convention centres around the world and until her appointment at the Vancouver Convention Centre, worked with Meeting Professionals International (MPI), the industry's largest association with 24,000 meeting professionals worldwide, as their VP, Marketplace Performance.
Claire is a recognized expert in her field and has been a featured speaker and session facilitator at ASAE, MPI and PCMA. She was Meeting Professionals International (MPI) British Columbia Chapter President in 1996/97 and in 2018 was the Chair of PCMA , the world's largest, most respected and most recognized network of business events strategists association. She is also an active participant in various International committees and Advisory Boards.
__________________________________________________________________________________________________________________________________