Pavco Board of Directors
PavCo's Chair and Board of Directors are appointed by the Provincial Government and is composed of people with a diversity of experience. The Board consists of the number of directors deemed appropriate by the Minister. The Board of Directors provides leadership and direction to the organization in a manner consistent with directives set out by the Provincial Government. Mandate and priorities are communicated through the annual
Mandate Letter
.
The Board meets at least three times a year to discuss the business of the Corporation and to provide direction to management. Ad hoc committees are formed at the call of the Chair; the Standing Committees are the Governance, Finance & Audit Committee, Core Review, and Marketing Committee. These Committees meet as required.
---
cHAIR
Stuart McLaughlin


Stuart McLaughlin is the president of Grouse Mountain Resorts Ltd. He has over 20 years experience in tourism and hospitality across the province. McLaughlin is a past chair of Tourism Vancouver, a former director of Tourism BC and chaired the BC Chamber of Commerce tourism advisory committee. He has also served on the board of the Canada West Ski Areas Association and is a past chair of Outward Bound Western Canada. He was a founder of Kicking Horse Mountain Resort and currently serves as a director of Pacific Insight Electronics Corporation in Nelson, B.C., Warranty Life in Burnaby, B.C., and on the board of Presentation House Gallery in North Vancouver.
---
DIRECTORS
Michael J. Ballingall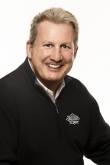 Michael J. Ballingall is the senior vice president of Big White Ski Resort Ltd., British Columbia's second most popular winter resort. Ballingall has worked in tourism and hospitality in the Okanagan Valley since 1982. He is well regarded as an innovative thinker and leader within the ski and snowboard industry. Under Ballingall's leadership, Big White has grown to become Canada's Favorite Family Resort and has been awarded top 5 Children's Ski School in the world.

Active in the Thompson Okanagan, he is currently Past Chair of the Thompson Okanagan Tourism Association, Director of the Canadian Ski Council, member of Destination Canada USA Marketing Committee, member of Destination BC Tourism Marketing Committee, member of the YLW Air Service Development team, and President Tourism Big White Society.
Theresa Breining

Theresa Breining, CMP, CMM is a principal with Breining Group LLC, whose focus is facilitating, training and consulting in the meeting industry. Breining has been in the meeting planning industry since 1976, and has been responsible for producing meetings around the globe. Considered by many to be a thought leader, Breining is an activist working tirelessly on the continuous advancement of the level of professionalism in the meeting industry, and has been serving as adjunct faculty for meeting planning programs for universities throughout Southern California for 25 years. She is a sought after speaker, presenting educational workshops for a variety of business entities, and she co-authored a book with Jack Phillips, entitled Return on Investment in Meetings and Events.
Breining has been acknowledged professionally many times over the years, including her inclusion several times on the lists of "Most Influential People in the Meeting Industry" by Meeting News and Smart Meetings magazines. In recognition of her lifetime of leadership, she was inducted into the Convention Industry Council's Hall of Leaders in 2010.
Elizabeth Model
Elizabeth Model is the Chief Executive Officer (CEO) of the Downtown Surrey Business Improvement Association. Previously, Ms. Model was the General Manager of Operations for Captain's Cove Marina Ltd, Cove Links Golf Course, Foremarke Management and Springbank Land Development. Prior to that, Ms. Model was the Executive Director for the Chamber of Commerce serving Coquitlam, Port Coquitlam and Port Moody, the Director of D.T. Addams and Associates Ltd. and the Owner of Travelodge in Vernon. Active in her community, she is the Chair of the Better Transit and Transportation Society and a member of the Simon Fraser University Advisory Council for Surrey. Ms. Model is a past President of the Better Transit & Transportation Coalition (BCTTC), past Chair of the Surrey International Marathon Society, past President of the BC Chamber Executives, past Chair of the Toll Free Calling Task Force Lower Mainland, past member of the BC Chamber Executives, past member of the Chamber Commerce Executives of Canada and past member of the American Chamber of Commerce Executives. She holds her Bachelor of Science from Brigham Young University (BYU).
Raghvir (Ron)Mundi
Ron Mundi is an entrepreneur in the hospitality industry. Mr. Mundi presently owns the six hotel properties and oversees 375 employees. Some of his hotels include the Coast Kamloops Hotel and Conference Centre, the Holiday Inn Express Kamloops and the Best Western Cedar Park Inn Edmonton among others. Prior to owning his first hotel in 2000, Mr. Mundi was active in various businesses and he was worked for the Punjab Government in India before locating to Canada. In his community, he is a member of the Thompson Rivers University (TRU) Community Trust Board where he provides industry advice regarding the expansion and direction of the University. He has also brought delegates from TRU to promote the University to students in India.
Frank W. Palmer


Frank Palmer is the chair and CEO of DDB Canada, an acclaimed marketing communications agency. The chief engineer of the merger between Palmer Jarvis and the DDB network in 1998, Mr. Palmer successfully created Palmer Jarvis DDB and built a thriving national network recognized for producing the country's most talked about and award-winning ad campaigns. DDB Canada has won Strategy Magazine's Agency of the Year more times than any other Canadian advertising agency.

In addition, Mr. Palmer is the co-owner of Palmer Rogers Encore, a new venture company that invests in emerging software, emerging technologies, new media, and any unique business venture that creates a business difference and opportunity. In recognition of his contributions to the advertising industry, Mr. Palmer was inducted into the Canadian Marketing Hall of Legends and received the Association of Canadian Advertiser's Gold Medal Award. He is a founder of the National Advertising Benevolent Society in Canada, and, through DDB Canada, he donates marketing and advertising services to a wide variety of charities and not for profit groups. Mr. Palmer graduated from the Vancouver School of Art.
Jatinder Rai
Jatinder Rai is Founder, President and Chief Executive Officer of Response Advertising Inc., a leading specialist communications agency that has been providing creative, media, market research and public-relations based communication solutions to some of the major marketers in Canada and the US. Mr Rai is a graduate from the University of Victoria.